We provide Chinese visa application, document authentication and Secretary of State certification services by mail.

Jump to:
Documents needed for Chinese visa,
How to apply: Step by step procedures
Document authentication,
Business related authentication
Upcoming consulate closure: Sept 5 (Labor Day), Oct 1-2 (National Day)
2016/08/16: Z visa applicants: the consulate checks your information in the computer system to combat fraud, please ask your employee to load your information into computer system of Ministry of Foreign Affairs.
2016/07/29: We are converting our site to a more mobile friendly design since June. Please excuse us for any inconvenience.
2015/03/09: Canadian passport holder can now apply for Chinese visa of up to 10-year multiple entry.
2014/11/12: Per Sino-US agreement, Chinese consulate in Houston and Chinese Embassy in Washington DC began issuing 10-year multiple entry visa to US citizens.
Fast, dependable, and secure
We submit your Chinese visa application to the Chinese consulate next day, and mail back to you right after we pick up your visa from the consulate. No delay. Regular service (visa or authentication) takes only 5 business days.


When can I get my Chinese visa back?

Our document safety measures

Online tracking, email report
At every stage you know where your most important document is.


Track my order status

Low service fee
Chinese visa: $79.96 service fee per visa (regular service, 5 business days, single to 10-year multiple entry), or from $49.96 (non-US, non-Candian passport); Consular fee $140 (US passport), $80 (Canadian passport) or $30-90 (non-US, non-Canadian passports).

Document authentication or Secretary of State certification: $39.96 service fee per document (volume discount available); consular fee $25 ($50 for business), Secretary of State fee $5-25.

Pickup service: (Houston consulate) $35 service fee per document, please see instructions for pickup service.

All fees are listed explicitly -- there is no hidden cost.
Cost table Total cost calculator

Choice of Shipping
We provide FedEx (recommended, from $15) and US Postal Service (from $8) shipping, or you may provide a prepaid return envelope.


Detailed shipping cost and guide

Prepaid return envelope guide

Service area
Chinese visa, Hong Kong permit: home OR work address in a state covered by Chinese Consulate in Houston (AL, AR, FL, GA, LA, MS, OK, TX plus Puerto Rico) or Chinese Embassy in Washington DC (may take 1-2 days more): DC, DE, ID, KY, MD, MT, NC, ND, NE, SC, SD, TN, UT, VA, WV, WY.

Document authentication, Secretary of State certification: Houston consulate: documents from AL, AR, FL, GA, LA, MS, OK, TX, regardless where you live; Chinese Embassy in Washington DC (may take 1-2 days more): DC, DE, ID, KY, MD, MT, NC, ND, NE, SC, SD, TN, UT, VA, WV, WY.

Payment method
Accept credit card, money order, check, PayPal.


Make a payment online
Below are basic documents required for your Chinese visa application:

Your original passport (valid for at least 6 months, with blank visa pages)
A copy of the photo page of your passport
One photo (2x2, color, similar to passport photo, detailed visa photo requirement)
Filled Chinese visa application form
Must be typed in CAPITAL letters, hand filled not acceptable; please follow instructions on our "Form download" page carefully, otherwise you may need to RE-DO it!
"Invitation (+ invitor ID for indiviual invitor)" OR "flight + hotel",

please click to see details

. One applicant per copy, even if they are the same.
[Family based visa Q1, S1, S2 only] Proof of kinship (marriage license, birth certificate). Not needed for tourist (L) or short term family visit (Q2).
Online order confirmation page (see "How to apply" below)

No extra document needed for 10-year multiple entry visa. If you apply for a tourist visa (L), family visit visa (Q2, Q1), privit visit visa, (S1, S2) or business visa (M) and visit visa (F), and none of the conditions on the right column applies to you, the above are all you need.

The visa application form and all supplemental documents must be printed single-sided.

You may need to submit additional documents if one or more of the following apply (see linked pages for details): We suggest that you apply 1-2 months before your departure date.

ATTENTION: If you were born in, or are a decendent of (former) residents of, mainland China, Hong Kong, Taiwan: you must visit Chinese version for more information. Failure to do so may cause delay to your application.
How to apply: Step by step procedures

With our service,

You mail the application to us, avoid the trouble of going to the consulate in person, save time and money;
We check your application throughly before submission, avoid common errors.
We are experienced, provide reliable service, see Testimonials.

To apply using our service,

Please fill out the online order form of our agency.

Print two copies of the confirmation page. You order ID, our mailing address, payment information (including credit card payment) and other instructions are shown on the confirmation page.

Mail us the documents listed in the "Documents needed" section above.

We are an independent company providing services by mail and charge a service fee. We are registered with the Chinese consulate, but we are not part of the consulate.

To apply using our service, please follow the steps on the left.

To apply at official locations, please visit:

Chinese consulate in Houston
Offices of Secretary of State

Please note that the Chinese consulate may not offer service by mail -- you may apply in person, ask a friend to apply for you, or you may use the service provided by us or similar companies.
What to do and expect after you mail your order
Tell us the time and method you mailed your documents, including tracking number, so that we can track the movement of your mail.

After we receive your application, we check for error, make corrections, and contact you if needed.
We submit your Chinese visa application to the consulate, pick it up, and mail it back to you.

You may track order status or submit additional information online at any time.

We update your order status by email and online when we: a). receive your documents; b). submit your application to the consulate; c). pickup and mail back your documents. We usually send emails and update status in the evening hours, but if there is anything goes wrong, we may contact you during the day.

After you get your visa, please check information on your new Chinese visa.
"That was a very fast service and I really like the updates via email...."
"... Excellent communication. Very knowledgeble of Chinese Embassy paperwork processing...."
"... This is my 3rd time using YWPW and you guys have always been super fast and reliable...."
Your satisfaction is our
top priority! Testimonials

Chinese Visa Information
Cost Calculator
How long does it take
Document Authentication

Create New Order
Modify Order
Download Forms
Track Order Status
Shipping Cost
Make Payment Online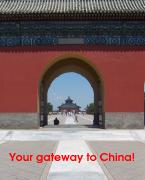 Able to read Chinese? See Chinese Version

for information available only in Chinese!

Ultra Preventive X, NutriSearch Gold Medal winner, one of the best multiple vitamin and mineral products.

Ayur-Curcumin (Turmeric), popular herb extract that helps fighting cancer cells. "Curcumin Compound Improves Effectiveness of Head and Neck Cancer Treatment, Study Finds", Science Daily (May 19, 2011)
Chinese Embassy in DC
Chinese Consulate Houston [directions] [Houston hotels]
---

Hotels and flights:
same flight, same hotel, just lower price!